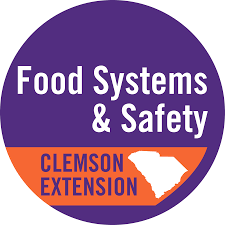 -One day review course using ServSafe® materials from the National Restaurant Association (NRA). -Taught by Clemson University Food Safety Experts who are certified ServSafe® Instructors with the NRA.
-Course concludes with the ServSafe® Certification Exam.
-Successful completion of the course and certification exam meets DHEC requirements for "Certified Food Protection Manager" under federal guidelines outlined in 2-102.12(B) of the FDA Food Code.
-ServSafe® Manager Certification from the National Restaurant Association will be e-mailed to participants upon successful completion of the course and certification exam. The certification is valid for five years.
-Cost of the course covers the exam and exam answer sheet.
-Course book: ServSafe® Manager Book 7th Edition, ISBN#: 0134812352, should be purchased before coming to the course: Buy English Book Here; Buy Spanish Book Here
-Participants should bring the course book with them on the day of training.
-Course topics include: Challenges to Food Safety, Microbiology, Contamination, Allergens, Food Safety Systems, The Flow of Food, Maintaining Sanitary Facilities and Equipment, Pest Management and Employee Training.
-A confirmation e-mail will be sent to you prior to the scheduled date of the training.
**Course materials also available in Spanish**
For additional information about our ServSafe® courses, contact Frances Seel at: flongin@clemson.edu.
Price: $135.00 (does not include the cost of the required book)
Register here: https://secure.touchnet.net/C20569_ustores/web/product_detail.jsp?PRODUCTID=6026&SINGLESTORE=true